Tips and Tricks Linky Party !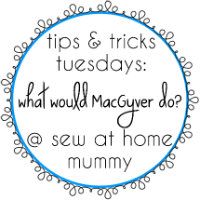 This fantastic series hosted by Erin at
Sew at Home Mummy
, and it is full of great tips for us crafters and bloggers !
Today I'm writing a post and linking
up with my new friend
Erin !!! On Tuesdays she has Tips,Tricks and Tutorials( including for blog writing) and today I am hosting !
Heres what I got for you !
It really bothers me to have threads everywhere when I am sewing and by accident one day I discovered that it sticks really well to a piece of burlap, this is a loose weave, I keep it by my machine while I am sewing and it soaks up those threads while I sew. You can also, use it to wipe across the table top or carpet and it gathers them so well, and it rolls them up to help you trash them.
My husband loves it now that he doesnt have to untangle the vacuum cleaner.
I just bought this nifty little tool from Missouri Star Quilt shop that really helps with those HST. I am not a fan of them, but they seem to always be in the Quilts I love, so I am going to give it a shot.
ALSO................
Something I just learned on Flickr,, its really cool ! Do you know this symbol on your key board, [ , Well when you are making a comment on flicker, you type this symbol

[ then copy and paste the link from your picture ]

and put one on the end ], then your picture will show up under your
comment. Wow who knew !
Now, I hope I shared something with you and Now share something with ME !
This is a linky party where you are encouraged to link up your tips, tricks or tutorials from your blog! Please visit each other and have fun sharing those secrets, there is no limit, dont be shy,its All Fun !
update: Wed
, I found a jewel of ideas, please click on Geta's link, This is fab, for me, last yr was a learning stage for me, how to thread my need kinda stage, this yr my focus is to make atleast premo mini quilt and work hard on my Bom's from January ! Dont miss out on this, most of you I learn from. I would love to read your answers to her ?????'s. http://cadouri-din-inima.blogspot.ro/2013/03/quilters-favorites.html#